The Heartbeat of San Francisco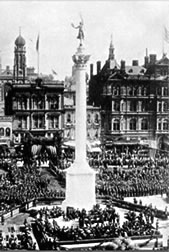 Union Square is the heartbeat of San Francisco itself -- ever changing, eternally celebrating, yet firmly rooted in its glorious past. The Dewey Monument on the right.
Two years before the Gold Rush, in 1847, Jasper O'Farrell created a design for San Francisco, with Union Square as a public plaza. By the 1880s, it was a fashionable residential district, and in 1903, the towering monument was added, topped by the bronze goddess Victory, modeled after Alma de Bretteville Spreckels, known for her enormous influence in the San Francisco art community.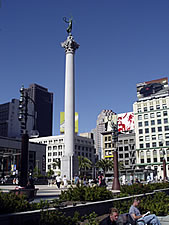 After the great earthquake of 1906, Union Square became San Francisco's premier shopping district, and, by the 1930s, the site of the world's first underground parking structure.
As a result of an international design competition and a $25 million renewal, Union Square was reborn. It's the obvious place to meet, enjoy coffee, or just let the world go by. Featured are a large central plaza with a terraced performance state and lawn seating...four grand entrance corners bordered by signature palms...a café pavilion with outdoor seating...visitor information and ticketing services...and four magnificent light sculptures.
And, of course, Victory, surveying the vitality of one of the world's great cities.
---
Our Favorite Books about the History of San Francisco
---
---
---
---
---