2016-2017 Chanukah Celebrations

Chanukah Festival of Lights in Union Square

December 24, 2016 to January 1, 2017
A local miracle happened in San Francisco in 1975 when community leaders joined together to create the first big menorah public celebration of Chanukah outside of Israel. Today that spark of innovation has spread to annual Chanukah celebrations in over 500 cities worldwide including; Berlin, Paris, Buenos Aires, Brisbane and Ho Chi Minh City. In San Francisco the legacy of innovation to spread the light continues.
Hanukkah Lighting Schedule First Lighting Ceremony
Saturday, December 24, 2016 | Union Square Park - San Francisco
Details to be announced.
Second Lighting Ceremony
Sunday, December 25, 2016 | 2pm to 6pm | Union Square Park - San Francisco
Lighting ceremony is scheduled for 5pm.
Bill Graham Alums to light the Menorah.
Musical Performances by Klezmer Trio, Dancing Frog
Kids Crafts Activities & Music - Dreidel House | Starting at 2pm
Third Lighting Ceremony
December 26, 2016 | 5pm | Union Square Park - San Francisco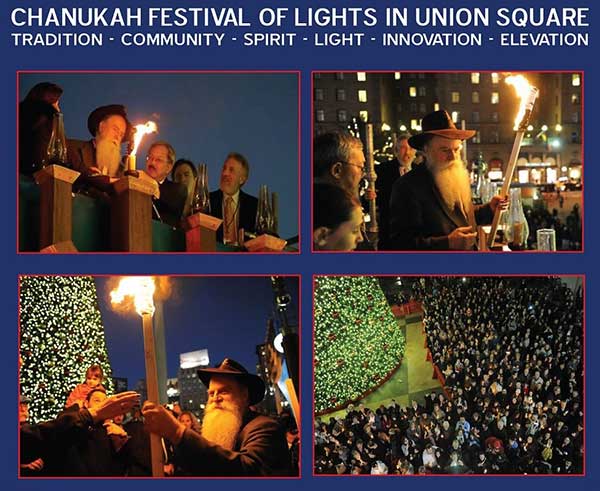 Parking | Directions | Map | Store Hours

Festival of Lights - Westfield San Francisco Centre
Friday, December 28, 2016 | 5pm to 7pm
Festival of Lights Hanukkah Celebration brought to you in partnership with friends at Chabad of Pacific Heights. Join them on for this celebration Under the Dome.
Parking | Directions | Map | Store Hours