FOURTH OF JULY CELEBRATIONS 2021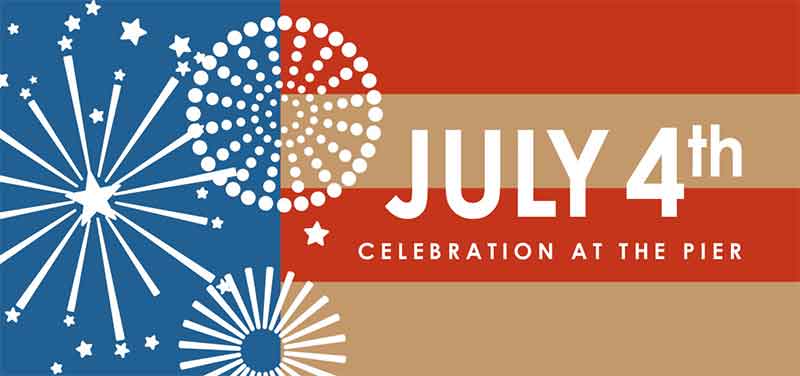 Pier 39 | The Embarcadero, San Francisco
SUNDAY, JULY 4
4 PM to 10 PM
Stunning fireworks, local bands, food, arts and crafts. Firewords begin around 9:30 PM, weather permitting.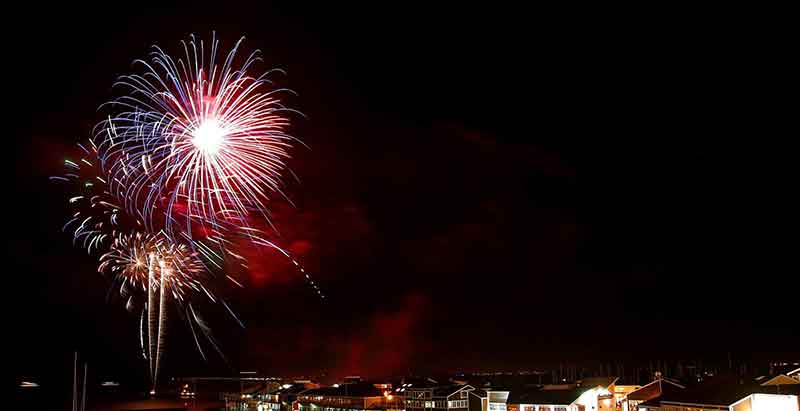 The Annual City of San Francisco Fourth of July Fireworks Celebration
SUNDAY, JULY 4
9:30 PM
2021 marks the return of The Annual City of San Francisco Fourth of July Fireworks Celebration. A fireworks display will be launched from two barges on the Bay beginning at 9:30 pm. Most of the restaurants, activities, and retail shops in Fisherman's Wharf WILL be open on July 4, 2021.
To make your day more enjoyable, it's highly recommend taking public transportation to Fisherman's Wharf.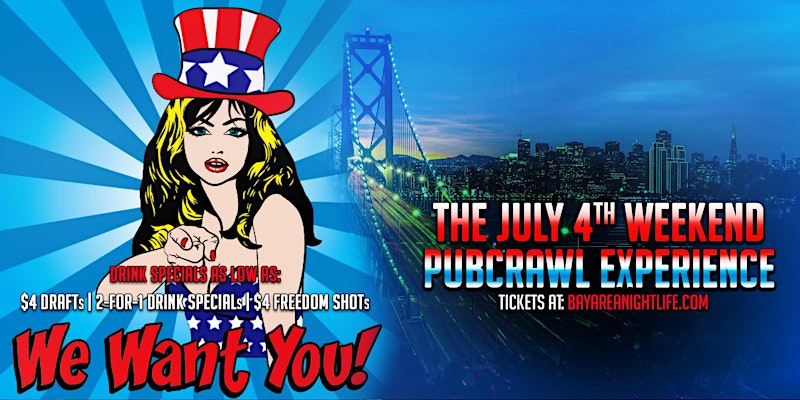 Fourth of July Pub Crawl | Comet Club, San Francisco
Saturday, JULY 3, 1 PM to Sunday July 4, 2 AM
Grab your friends and all your red, white & blue accessories; and get ready for a rip-roaring time as we celebrate 4th of July in San Francisco!
Our annual Independence Day Saturday Pub Tour is sure to satisfy all your "Red, White & Brew" needs this Fourth of July Weekend. You'll hit some of the Bay Area's best bars and get exclusive deals on drinks. Make sure you have a way to get home without driving; this party will be fire crackin'!
Fourth of July Pub Crawl | Mayes Oyster House, San Francisco
SUNDAY, JULY 4
4 PM to 10 PM
It's time to celebrate Independence Day! The Fourth of July Pub Crawl and San Francisco Hot Dog Eating Contest will take place on Sunday, July 4 and there isn't a better event in the city if you want to some raucous fun. Join a huge crew of fun people at an amazing pub crawl on Polk Street. Dress up in your favorite Fourth of July costumes and enjoy some great holiday drink specials at some of the best bars in San Francisco.
Check in at Mayes anytime from 4PM to 8PM and enjoy drink specials at all bars. Drink specials will be available from 4PM to 10PM. Enter the Hot Dog Eating Contest!
ICE SKATING in UNION SQUARE
OPEN through January 20, 2020 - 10:00am to 11:30pm
OPEN DAILY
10:00 am - 11:30 pm
90 MINUTE SESSIONS - sessions start on even hours
ADMISSION
General Admission - including skate rental $18
Children (Eight and Under) - including skate rental $13
Locker Rental - $3
Skate Helper $6
For more information and details...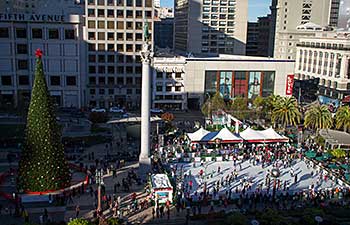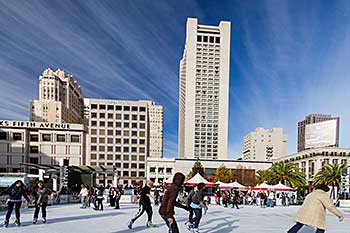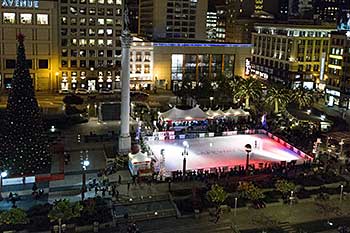 Parking Garages | Map | Directions | Parking Rate Comparison Chart

Emerging Fashion Designers in San Francisco
Saturday, September 1, 2018 | 3:00 PM - 5:00 PM
Heralding the international fashion weeks from New York/ London / Milan and Paris here in our city. The Art Institute of California, San Francisco is leading the International Fashion Show Month. A first.
Twice a year New York, London, Milan and Paris showcase designers collections during September and February. The graduate designers will be presenting at the same time of year to kick off the season for Fashion Spring Summer 2019. Under the Dome, Level 4, at the Westfield San Francisco Centre on Saturday, September 2018 at 3pm.
Individuality is now more important than ever before - Living in a world where everything is saturated. People are becoming afraid to be bold and unique. We are showing five talented designers who aren't scared of daring to be different. Their designs are extraordinary in terms of personality, atmosphere, shape, cut and texture. They will bring you a captivating experience! We look forward to seeing you there.
To RSVP contact:
Mikel Rosen: 415.525.6218
Alyssa Ansel: 916.504.0862
Parking | Directions | Map | Store Hours
UNION SQUARE PARK EVENTS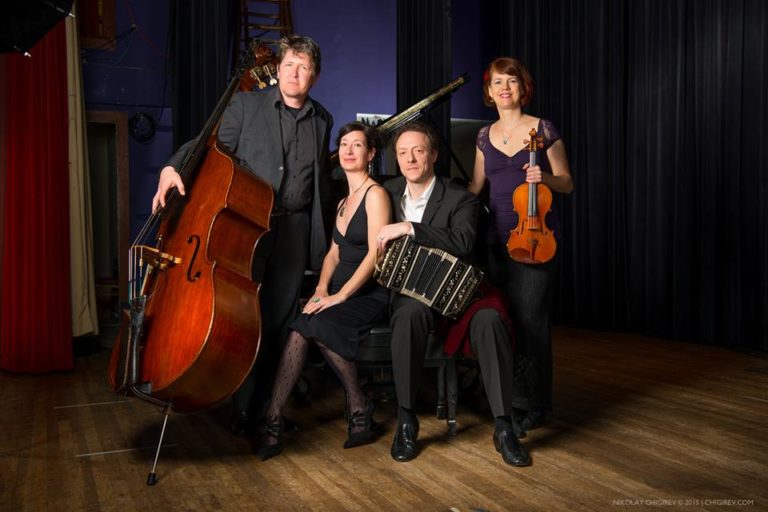 Tango in the Square
Tangonero with Claudio Ortega
Sunday, September 2, 2018 | 2:00 PM - 4:00 PM
DJ/DANCE LESSON with Bay Area Argentine Tango Association
Teacher: Christy Cote
With members from Russia, Switzerland, Canada, and the US, Tangonero is a San Francisco ensemble dedicated to preserving the tradition of Argentine Tango.
Michele Walther: violin
Richard Duke: double bass
Amy Zanrosso: piano
Alex Roitman: bandoneon
Union Square | Macy's
Parking | Directions | Map | Store Hours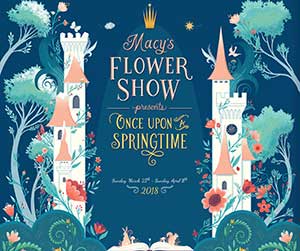 Macy's Flower Show
Sunday, March 25th to Sunday, April 8th
Once Upon a Springtime
San Francisco. Gorgeous blooms Enchanting arrangements. Fantasy flora &anp; fauna.
This season's "Once Upon a Springtime" show imagines an amazing world of wonder. Lose yourself in all of the breathtaking delights as you enter a land typically seen only in the most fanciful fairy tales.
Explore the spectacular settings where heroic characters triumph over competing forces to usher in the beauty of spring. You'll be sure to interact with the Flower Show like never before.
Union Square | Macy's
Parking | Directions | Map | Store Hours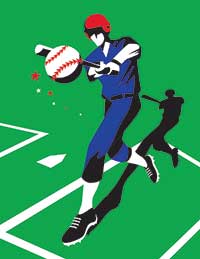 Celebrate the Start of Opening Season
Saturday, March 31, 2018 | 2pm-3:30pm | Macy's - Men's Building Main Level - 170 O'Farrell Street
Celebrate Giant's Baseball Season
Root, root, root for the home team! Now's the time to stock up on new orange and black gear, take a photo with San Franciscos' home team mascot and strike a pose with the Winning Series trophies.
Plus, with any LIDS purchase of $25 or more receive a super-cool water bottle*.
*While supplies last.
Union Square | Macy's
Parking | Directions | Map | Store Hours

If Only I had a Brain
February 1-28, 2018 | ARTIST RECEPTION February 1 - 5:30 PM to 7:30 PM
David Buckingham Exhibition & Reception
Parking | Directions | Map | Store Hours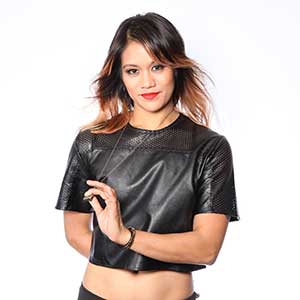 Bar Cart Essentials
Saturday, February 3, 2018 | 2pm-3:30pm | Macy's - Cellar Kitchen, Lower Level
With Anne marie Ceralvo
Cheers! Here's to creating the ultimate home entertaining hub. Cocktail enthusiast Anne Marie Ceralvo will show you how to stock and style your bar cart using festive glassware, barware and accessories. Watch as she creates easy-to-execute recipes - you're sure to be inspired to personalize your own party central.
Anne Marie is a Bay Area native who enjoys incorporating her knowledge and enthusiasm into crafting the best possible guest experience. She enjoys building libations that cater to each person's drink preferences, but it's a real treat when a patron says to her: "Make me what you want--'Dealer's Choice!'" She believes it is the perfect opportunity to introduce a new cocktail, to perhaps educate a guest about its origin, or to simply expand that person's horizon in the realm of spirits.
Union Square | Macy's
Parking | Directions | Map | Store Hours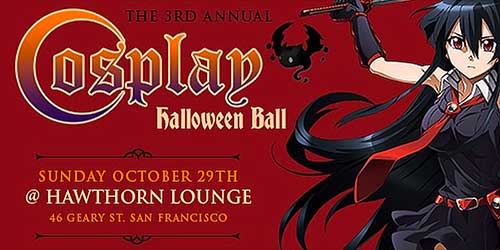 Cosplay Halloween Ball
Saturday, October 28 2017 | 9:00 AM to 2:00 AM
Come and be part the Cosplay Halloween Ball at the luxurious Hawthorn Lounge in the heart of San Francisco's Union Square.
Dress up as one your favorite character on a Japanese Anime, Video Games, Comic Superheroes, American Cartoons, Sci-Fi Movies, Television Series and their related interests.
Two Rooms of Music
Cash Price Costume Contest
Cosplay Costumes required
---
Parking | Directions | Map | Store Hours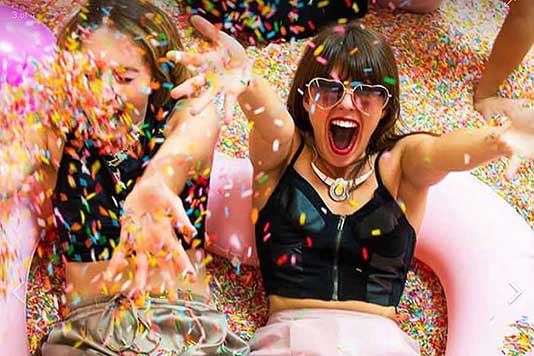 Museum of Ice Cream
Saturday, September 2017 - February 2018 | 10:30 AM to 12:30 PM
MUSEUM OF ICE CREAM | 1 Grant Avenue
Remember those crazy ideas you dreamed up as a kid? The Museum of Ice Cream is the place where ideas are transformed into real life experiences. A place where flavors are mysteries, toppings are toys and sprinkles make the world a better place.
Their mission is to design environments that bring people together and provoke imagination.
Tickets are temporarily sold out, but you can go here to sign up to be notified when more tickets become available. There are not tickets at the door.
---
Parking | Directions | Map | Store Hours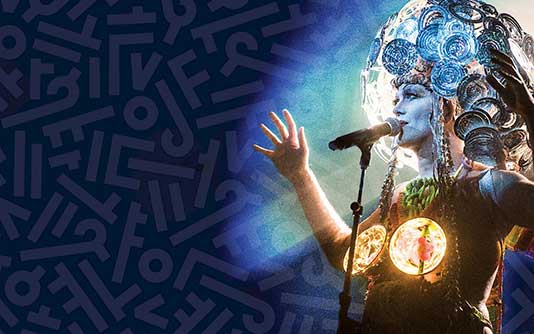 Taylor Mac
Friday, September 15 - Sunday, September 24 | 5:00 PM - 9:00 PM
THE CURRAN THEATRE | 445 Geary Street
---
Chapter I (1776-1836) September 15
The American Revolution from the perspective of the yankee doodle dandy, the early woman's lib movement, an epic battle between drinking songs and early temperance songs, a dream sequence where the audience is blindfolded and the heteronormative narrative as colonization.
Chapter II (1836-1896) September 17
Walt Whitman and Stephen Foster go head to head for the title of Father of the American Song, culminating in the queerest Civil War Reenactment in history. Oh, and: a production of The Mikado set on Mars.
Chapter III (1896-1956) September 22
A Jewish tenement, a WWI trench, a speakeasy, a depression, a zoot suit riot all make the white people flee the cities.
Chapter IV (1956-the present) September 24
Bayard Rustin's March on Washington leads to a queer riot, sexual deviance as revolution, radical lesbians, and a community building itself while under siege.
A 24-DECADE HISTORY OF POPULAR MUSIC is Taylor Mac's multi-year effort to chart a subjective history of the United States through is a unique mash-up of music, history, performance, and art that were popular throughout the country, and in its disparate communities, from 1776 to the present day.
---
Parking | Directions | Map | Store Hours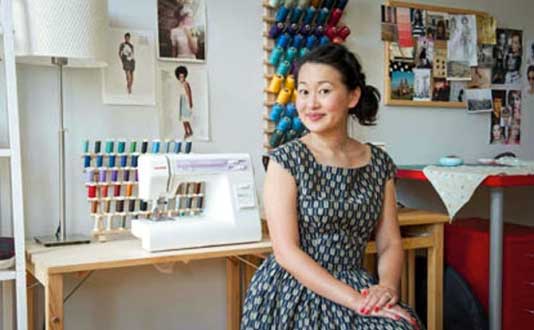 Fashion Design with Jamie Lau
Saturday, September 16 | 10:30 AM to 12:30 PM
Join fashion designer and Britex Fabrics guest blogger Jamie Lau for a two-hour interactive workshop on fashion design. This inspirational and creative fashion design course will introduce you to the principles of fashion design, including basic fashion drawing techniques, creating mood boards for color selection, and fabric awareness. Students will have access to croquis (fashion figure templates), colored pencils, and markers for sketching. In addition, students will also create inspirational mood boards using magazine tears, fabric swatches, and collage. This course is open to students, aspiring fashion designers, stylists, fashionistas, and seamstresses alike.
$30. All materials are included..
---
Parking | Directions | Map | Store Hours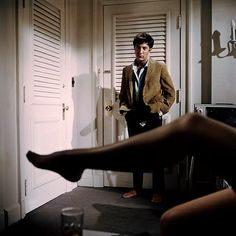 The Graduate "1967 Movie" Union Square Park
September 9, 2017 | Sunset 7:25pm
UNION SQUARE PARK | Between Geary & Post and Stockton & Powell Streets
Film Night in the Park is San Francisco's premiere outdoor film series. Over 125,000 people have attended Film Night in San Francisco since 2003. Films are presented free of charge on a giant outdoor screen in beautiful park settings. Attendees are encouraged to picnic before screenings and are discouraged from bringing chairs.
---
Parking | Directions | Map | Store Hours