SF SPCA & Macy's Holiday Window Unveiling
Friday, November 16, 2018 | at 5:00pm
Celebrate the season by joining the San Francisco SPCA and Macy's for the 32nd unveiling of the iconic Holiday Windows at Union Square on Friday, November 16, at 5pm. The window displays, which have become one of the most beloved symbols of the holiday spirit in San Francisco, will once again feature adorable, adoptable cats and dogs who need loving homes.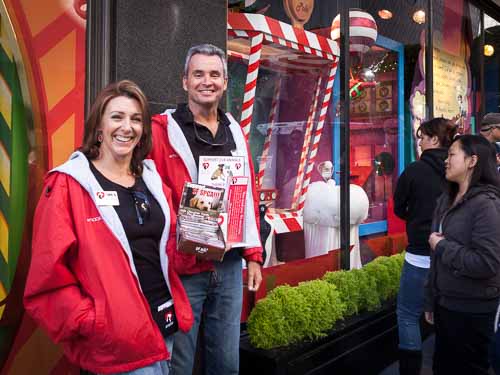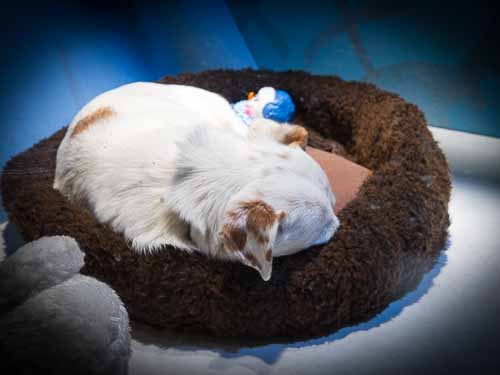 This year's windows, titled "The Wonder of Giving," celebrate the bonds and traditions between family and friends. Generations of visitors will delight once again, seeing the cuddly and adoptable animals ready to share the holiday in a new home.
In 2017, over 200 animals found homes during Holiday Windows and more than $100,000 was raised to provide year-round support for the SF SPCA's lifesaving programs. Over the last 31 years, Holiday Windows has made it possible for more than 9,000 animals to find loving, permanent homes.
Join the SF SPCA on the corner of Stockton and O'Farrell Streets on November 16th as they begin the holiday season with the unveiling of lovable animals.
Each detail of the Macy's Holiday Windows is designed for the comfort of the animals, in partnership with the SF SPCA, ensuring that every need is considered. The 2018 Macy's Holiday Windows feature whimsical and dreamlike visuals, utilizing motion, light and music to bring Santa and his helpers to life. Holiday nostalgia will envelop each passersby as they walk around and glimpse Santa and his polar bear and mouse helpers as they make their final preparations to decorate Macy's for Christmas. Then the real magic of togetherness is celebrated with every pet that finds a new loving home.
"Combining the magic of holiday giving and finding these animals new homes, along with the importance of being with those we love throughout the season, makes these windows one of our favorite projects all year," said Macy's Visual Manager, Rise Hixson. "Guests from all over the Bay Area and the United States love watching the adorable animals in these windows. Spreading that cheer and finding these animals loving homes at this time of year is magical."
"Thanks to our Holiday Windows partnership with Macy's, thousands of animals have been adopted and our programs are always top of mind as shoppers walk downtown," explained Dr. Jennifer Scarlett, SF SPCA President. "Every holiday season the San Francisco community comes together to help our animals find new homes. This is our biggest event of the year, and the tradition truly brings out the magic of the holiday spirit."
In addition to the iconic Holiday Windows, Macy's at Union Square will also host a Make Good Cents round up campaign, inviting shoppers to round up their purchases to the nearest dollar for donation to the SF SPCA. For example, if a customer has a total of $13.80 they can choose to round up to $14 and the 20 cents will be donated to SF SPCA. The round up campaign will run from November 16 until November 25.
This year, the magic will expand beyond the windows with a special space on the 7th floor where visitors will be able to see more adoptable animals and even schedule time in the SF SPCA's wildly popular Cuddle Experience. A $10 donation gets your 10 minutes of snuggles! Cuddle sessions will be available November 17 – November 25, from 11am – 1pm and 5pm – 7pm, plus a special session the night of the unveiling, November 16, from 5pm – 7pm.
Santa Paws is Coming to Town!
Thursday, November 29, 2018 | at 5:00pm
MACY'S | UNION SQUARE
Holiday Lane | Macy's, Level 7
The San Francisco SPCA and Macy's are teaming up to bring you Santa Paws, a special holiday event where you and your beloved pooch can get a close-up with Mr Claus. We'll be serving up treats for both dogs and humans and lots of fun holiday cheer.
Tickets are $45.00 and include admission for two people, two dogs and a printed photo with Santa. A portion of the proceeds benefits the SF SPCA to ensure that our shelter animals can stay warm and cozy during the holidays.
Event subject to change or cancellation.
RSVP Purchase your ticket online for the Santa Paws Event
RSVP - Purchase Your Ticket Now!
Parking Garages | Map | Directions | Parking Rate Comparison Chart