Macy's 28th Annual 2017 Union Square Tree Lighting
November 24, 2017 - 5:30 pm | Tree is Up Until January 2, 2018
Get Tree Lighting Full Details
Parking Garages
|
Map
|
Directions
|
Parking Rate Comparison Chart
Polar Bear Skate | 5th Annual
Monday, January 1, 2018 | 2:00pm to 3:30pm
UNION SQUARE PARK | ICE RINK
You don't want to miss the 6th Annual Polar Bear Skate, a San Francisco spin on an old tradition this New Year's Day 2017.
With California-style in mind, ice skaters are encouraged to come in their favorite bathing suit and beach apparel!
Get your shades, bathing suit and best polar bear attire and come to the ice rink to take the plunge! #polarbearskate
Parking Garages | Map | Directions | Parking Rate Comparison Chart
ICE SKATING in UNION SQUARE
OPEN Tuesday, November 1, 2017 to January 15, 2018 - 10:00am to 11:30pm
OPEN DAILY
10:00 am - 11:30 pm
90 MINUTE SESSIONS - sessions start on even hours
ADMISSION
General Admission $12
Children (Eight and Under) $7
Skate Rental
$6.00
For more information and details...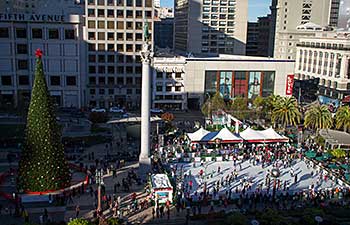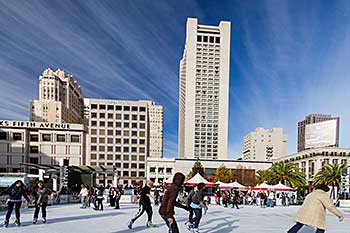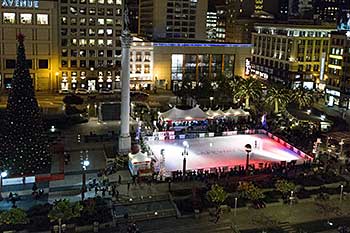 Parking Garages | Map | Directions | Parking Rate Comparison Chart
SF SPCA & Macy's Holiday Window Unveilng
Friday, November 17, 2017 | at 5:00pm
Macy's | Union Square | Macy's Windows Stockton Street
Each year the San Francisco SPCA unveils the Macy's Union Square Holiday Windows with adorable and adoptable animals. Last year 257 animals found forever homes, bringing the total Holiday Windows adoptions to more than 9,000.
Join the SF SPCA on the corner of Stockton and O'Farrell Streets on November 17 as they begin the holiday season with the unveiling of lovable animals.
Plus, San Francisco pastry chef Yigit Pura partners with Snoopy to kick off the celebrations with a special performance by the De Marillac Academy Choir, and much more!
The excitement continues to dazzle as Snoopy and our guests open the curtains together!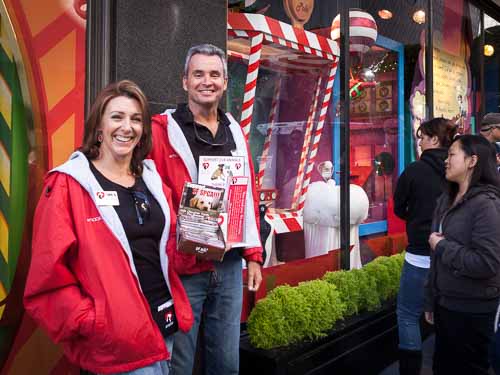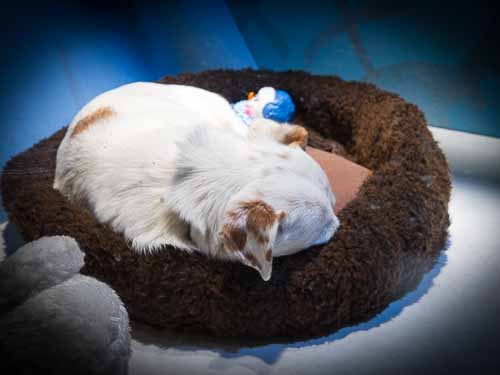 Parking Garages | Map | Directions | Parking Rate Comparison Chart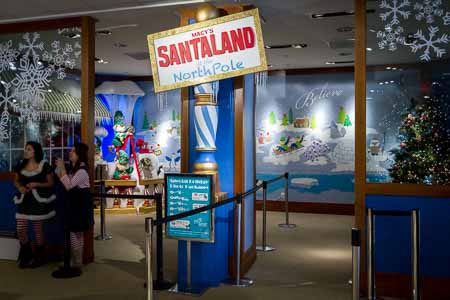 Photos with Santa at Macy's Santa
November 24 to December 23, 2015 | Santa's Schedule
The holidays would not be the same without a trip to see Santa. Old St. Nick will listen to holiday wishes and be available for portraits in Macy's Santaland®.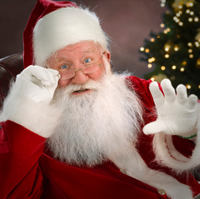 Photos with Santa - Westfield San Francisco Center
November 19 through December 23 2017 | Santa's Hours
Santa arrives for all the kids and families - give Santa your list and get your photo taken with him.
Make Reservations - Santa's Fast Pass
Take the shortcut to Santa! Seeing St. Nick just got quicker with the Fast Pass. View location and hours.
Santa's Schedule & Reservations
Parking Garages | Map | Directions | Parking Rate Comparison Chart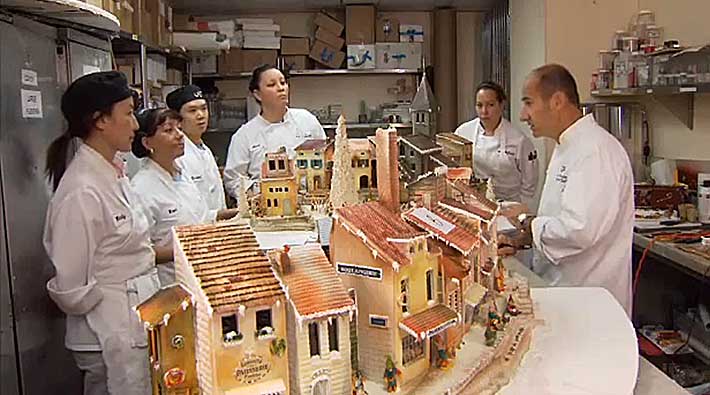 St. Francis Enchanted Castles & Holiday Sugar Cakes
November 23, 2017 to January 2, 2018
Executive Pastry Chef, Jean-Francois Houdré and his team, will unveil not one, but two one-of-a-kind castles in the Landmark Lobby! This life-like magical castle features grand circular towers, individual rooms, colorful illuminated windows, and is surrounded by holiday sugar cakes.
Note: Image is from Previous Year.
Parking Garages | Map | Directions | Parking Rate Comparison Chart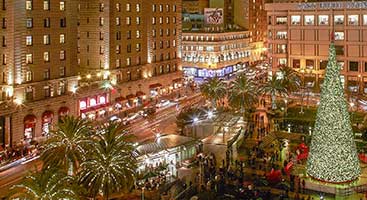 St. Francis Holiday Tea
Saturday & Sundays, November 26, 2017 to December 17, 2017 | 2pm to 4pm
Begin this elegant tea outing with a choice of fine artisan teas from Mighty Leaf or Red Blossom Tea Company, followed by a selection of English tea sandwiches, freshly baked black currant scones and seasonal berries with Devonshire-blend cream, preserves and assorted petit fours.
Guests may also choose the Royal Tea that includes the complete tea service with a glass of Gloria Ferrer Brut sparkling wine.
$60 Adults Complete Tea; $68 with Red Blossom Tea; $72 Adults Royal Tea; $75 with Red Blossom Tea; $40 for children 12 and under for regular tea.
Reservations are required. Please be sure to book early. For reservations, call (415) 774-0264.
Parking Garages | Map | Directions | Parking Rate Comparison Chart
Santa Paws is Coming to Town!
Thursday, November 30, 2017 | at 5:00pm
MACY'S | UNION SQUARE
Holiday Lane | Macy's, Level 6
Macy's and the San Francisco SPCA share a special holiday event - Santa Paws. Bring your pooch and get a photo with Santa as well as meet Santa and the beloved Cocoa, the mini horse and LiLou the Pig!
Treats will be served for both dogs and humans and lots of fun holiday cheer.
Tickets are $45.00 (admits up to 2 people and 2 dogs with one photo) and includes a printed photo with Santa. Portion of the proceeds benefits the SF SPCA.
RSVP at Macy's and SF SPCA - Purchase your ticket for the Santa Paws Event
Parking Garages | Map | Directions | Parking Rate Comparison Chart

Most Fabulous Drag Queens on Ice
Thursday, December 7, 2017 | 8:00pm to 9:30pm
UNION SQUARE PARK | ICE RINK
The fierce and "fa-la-la-la-abulous" drag queens of the Bay Area are returning to the Union Square Ice Rink for one of the City's most popular holiday events. The wildly exciting drag performers are sure to shine in a night full of lip-syncing and lipstick that is guaranteed to make audiences of all ages laugh and dance with #dragqueensonice
Now in its eighth year, Drag Queens On Ice will feature San Francisco's fiercest drag queens, including Mutha Chucka, Paju Munro, Kylie-Pop and Mahlae Balenciaga, as they don their most gay apparel for an evening of special performances. Legendary San Francisco drag personality Donna Sachet will return to serve as Mistress of Ceremonies. Special guests for this year's event includes the return Sister Roma of the Sisters of Perpetual Indulgence and Queen Dilly Dally, the queen of make believe. To celebrate this annual event and the tenth anniversary of the Holiday Ice Rink at Union Square, Humphry Slocombe will serve its commemorative limited-edition flavor, "Chocolate Peppermint Death Drop," an homage to the daring move known by both ice skaters and drag queens alike.
Tickets to skate alongside the queens and have the best seat in the house for the performances are $25 for adults and $20 for children. Tickets are on sale now and can be purchased online or in person at the ice rink ticket window.
Parking Garages | Map | Directions | Parking Rate Comparison Chart

SantaCon is Coming to Town
December 2017 | Noon
Hundreds to thousands of Santas will take over as the annual commotion that fills the streets and dive bars with booze laden Santas traversing Union Square and the rest of The City!
Buckle up your Santa Belt as by early evening it becomes a drunken mess as Santas spread out through The City!
Parking Garages | Map | Directions | Parking Rate Comparison Chart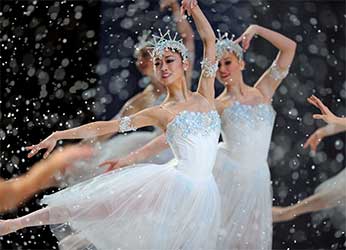 San Francisco Ballet's Nutcracker
December 13 to December 30, 2017
This holiday season, be entertained as the lights dim, the music soars, snowflakes swirl, flowers dance, and a little girl dreams about a whole new world in a Nutcracker that is as unique as it is magical. And it's only at SF Ballet.
On Christmas Eve 1944, the audience at San Francisco's War Memorial Opera House experienced the American premiere of Nutcracker. An instant sensation, the ballet launched a national holiday tradition.
Parking Garages | Map | Directions | Parking Rate Comparison Chart